Matrix Means Media
In this podcast, Brenda Hetrick, CRO of Matrix shares an insider viewpoint on how process, technology, and consumer behavior are propelling the automation evolution of ad buying and selling. Listen in as Brenda interviews key industry leaders that are not only deep in the trenches of the evolution, but integral and influential to driving it forward in the Matrix Means Media podcast.
Fill out the form right, to subscribe to the latest Matrix Means Media Podcasts today.
Matrix Means Media Podcast Episodes
EPISODE 4: GUEST ROB ELDER, GENIUS
Listen in as Brenda Hetrick interviews Genius's Rob Elder, to discuss all things ad sales, including how Genius is creating new solutions for their advertisers via partnerships, technology's role in the ad sales process, Genius's strategy for selling into multiple market verticals and more.
---
EPISODE 3: GUEST MARK GORMAN, MATRIX
Listen in as Brenda Hetrick interviews Matrix CEO, Mark Gorman for a no-holds-barred conversation on COVID-19, producing a future-forward focused culture, expanding product capability, bringing intelligence to the forefront of the ad sales workflow, and delivering automation as the industry moves to impression-based selling.
---
EPISODE 2: GUEST JAY STEVENS, HUDSON MX
In this podcast Brenda Hetrick, along with Matrix's CTO, Adam Gotlieb, interview Hudson MX's Jay Stevens to discuss TIP Compliance and automating the ad buy / sell process at all levels and across all platforms. Furthermore, the group talks to how technology is evolving to advance the way we do business.
---
EPISODE 1: GUEST SARAH FOSS, FREEWHEEL
In this podcast Brenda Hetrick delves into how FreeWheel's Sarah Foss got started in media, how technology and processes have and haven't changed over the years, and where we as an industry are going when it comes to automating the ad sales process.
---
ABOUT BRENDA HETRICK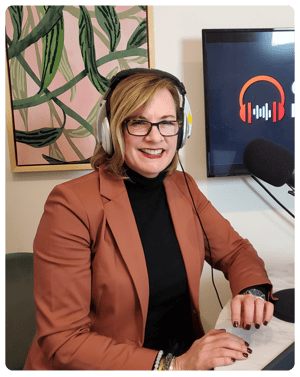 Brenda believes that growing a company to greatness is fueled by organizational passion for strategic and innovative solutions that drive revenue and align with overall business goals. She focuses her efforts on socializing the value of the Matrix Media Sales Ecosystem to prospects, customers, thought leaders and industry influencers!

As the Chief Revenue Officer, Brenda is responsible to conceive, develop and oversee the execution and success of all revenue-related operations including purposeful sales & marketing blueprints for the media industry.

Brenda's wide-ranging professional background allows her to apply strategic sales & marketing fundamentals to any industry and provide value by offering insightful, creative solutions to grow companies, overcome hitches, or enter new market segments.

Industry experience: emerging technologies, software, media, healthcare, legal, non-profit/university and financial services.

Brenda holds a B.A. in Economics and Political Science from the University of Pittsburgh and an MBA from Robert Morris University.