We are excited to announce a new initiative that connects sales superheroes, like you, and their Matrix Solutions' stories of success! How have you been able to sell smarter, faster, and more efficiently?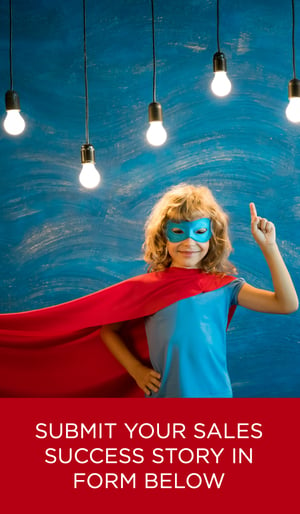 Not only are there rewards to be had from sharing your success story, but you may also learn some savvy tips and tools from other Matrix users too!
Share your Superhero Sales Success story with us, be it one or ten, as to how Matrix has helped you achieve selling smarter, faster, and more efficiently. We will select one superhero sales success story per quarter to win a $250 gift card and complimentary registration to the upcoming Media Ad Sales Summit.
The selected superhero sales success story, will be compiled into our Matrix Sales Success Stories Playbook as well as be featured in the Matrix monthly eNewsletter. In addition to quarter winners, the first three submissions received each quarter, that meet the criteria, will be awarded a $50 gift card.
SUBMISSIONS DETAILS:
Available to all Matrix/Monarch users

Only complete entries (challenge, solution and key benefits including KPI's) are eligible

By submitting a sales success story, the individual is agreeing to:

be highlighted in the monthly newsletter and featured on the Superhero Sales Success story web page

be used to aid in writing a case study, and

be used as a reference / testimonial

The deadline for submissions is rolling; whereby we will accept ongoing submissions, however at the end of each quarter, one success story submission will be selected to receive a $250 gift card and a complimentary registration to the next Media Ad Sales Summit.
| | | |
| --- | --- | --- |
| How do I submit? | How many success stories may I submit? | How are the quarter winners chosen? |
| All Matrix/Monarch users can submit their success story using the online submission form below. | Users may submit as many stories as they wish. However, quarter winners will be drawn at the end of each quarter. Additionally, the first three submissions per quarter will receive a $50 gift card. | Quarter winners will be chosen objectively, provided each success story is submitted fully, with their specific challenge described, solutions including how Matrix helped overcome their challenge and key benefits featuring measurable outcomes. |
1ST SUPERHERO SALES SUCCESS WINNER Q4 2018: LAUREN BREAKELL, WDJB7

Lauren Breakell, won a $250 gift card and complimentary registration to the 2019 Media Ad Sales Summit, which she attended. Additionally, her winning submission was featured in the monthly Matrix eNewsletter and compiled into our Matrix success stories playbook. Please see her winning submission below:

Challenge: Keep my title of New Business Leader for the entire 2018 Year!!!

Solution: Put the Matrix App on my phone. So that anywhere I go, anytime day or night I pass a wrapped vehicle, a building, a billboard or meet a stranger out and about...I can go to my Matrix app, pull up accounts and right then and there enter the business name, contact info, notes about where and when I met them.

Key Benefits: I get the ease of 24 hour access to Matrix. I know who and how and when and where I have run across a new account. The Matrix app has simplified my processes and let's my managers know who I am calling on and what my activities are for the day/week. Added bonus? Sending my activities to my Outlook calendar and getting daily schedules from Matrix to my email.
---
2ND SUPERHERO SALES SUCCESS WINNER Q1 2019: MEGAN KEENAN, CAPITOL BROADCASTING COMPANY

In addition to earning herself a $250 gift card, her success story featured here and compiled into the Matrix Solutions' playbook, Megan will also get a complimentary registration to the 2020 Matrix Solutions' 4th Annual Media Ad Sales Summit.

Please see her winning submission below:

Challenge: I sell station events and have many events that happen throughout the year at different times and on different stations that call for different types of sponsors. I need to stay organized and on track with follow up calls/presentations based on not only specific events and the onsite dates but when those campaigns start to keep potential sponsors top of mind.

Solution: I utilize the Tags feature to help me stay organized for specific events. After entering the activity notating my call, email, etc, I go in and add a tag to the account with the event I am prospecting them for. Some clients/prospects I target for multiple events and some are for only one - the tags allow me to do a search if I want to focus on calling on a particular event coming up. The espresso shot email also reminds me and helps me follow up when deadlines are approaching.

Key Benefits: Time goes by so fast and we can get caught up with other day to day duties but this has allowed me to stay organized and focused on potential sponsors when it comes to specific events. I am not missing out on potential sponsors because I spoke to them few months ago and said to follow up later in the year because the event is in 6 months or longer. When focused on a specific event, I can search the tag and it can remind me to get back in front of them when timing is right. It also helps my management see how many potential sponsors I have for a specific event and for me to see that I need to spend some time prospecting for a specific event.

---

3RD SUPERHERO SALES SUCCESS WINNER Q2 2019: TONY BOTTORFF, WPXI-TV

Tony has won himself a $250 gift card, his success story featured here, and compiled into the Matrix Solutions' playbook. Tony will also receive a complimentary registration to the 2020 Matrix Solutions' 4th Annual Media Ad Sales Summit!

Please see his winning submission below:

Challenge: As a media rep, I sell broadcast TV, a full menu of digital strategies, sponsorships, and specific company initiatives everyday. Earlier in my career, I struggled to keep my "to do" list organized resulting in missed sales and opportunities.

Solution: I rely heavily on Matrix's "Espresso Shot" every morning to keep me on track. I still block off time to cold call and follow-up with clients in my calendar, but the ability to have all of my calls for the day in one place makes all the difference. Even with prospects who aren't ready to buy, I'm easily able to set periodic touch base calls to see if any new opportunities fit with their current strategy.

Key Benefits: Since implementing Matrix as my CRM, I've been consistently at or over my budgets the last four years. In Q2 2019, I'm currently pacing at 168% to goal with my new business budget, 161% to my digital budget, and have sold a key station initiative through May 2020.
---
EXAMPLES OF SUPERHERO SALES SUCCESS STORIES BELOW:
Sales Success Story on Mitigating Churn:

Challenge: The adage states that it costs significantly more to land a new customer than it does to retain an existing one. So, there's value in keeping your customers coming back, however, churn was higher than ever.


Solution:

Ran the inactive report created a contest

Ran the Churn Report – future forward

Key Benefits (including KPI's):

Reduced Churn from 44% to 25%

Established a plan for rescue accounts

Sales Success Story to Increase New Business Development:

Challenge: Discovered the station was not going to make budget from our existing list. To increase sales the focus needed to be on new business development.

Solution: First I defined who the ideal customer is. From there I determined the number of qualified prospects needed to make a sale. I then entered the prospects into Matrix, which managed the number through the account list. Next I was able to run the Activity Report and finally the Revenue Summary Report.

Key Benefits (including KPI's):

Increased sales for the quarter by 2%
---
So what are you waiting for? Start your superhero sales success submission today using the form below.
Superhero Sales Success